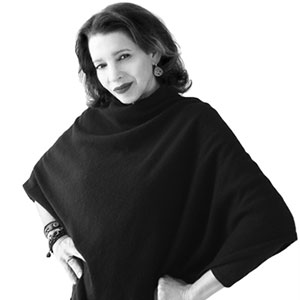 Robyn Cosio
Brow Specialist + Makeup Artist
Robyn Cosio is a world-renowned makeup artist and eyebrow specialist serving clients on both coasts. Based in LA at Sally Hershberger Los Angeles, Robyn is in such high demand in NYC that she is now taking appointments one week each month at Sharon Dorram Color at Sally Hershberger.
Her work has been featured in Vogue, InStyle, Harper's Bazaar,W, Elle, Marie Claire, Mademoiselle and Allure and in television commercials for Gallo Winery, Maybelline and Levi's. She is highly sought after as a recognized authority on eyebrows and makeup and has made appearances on The Today Show, Good Morning America, CNN, Fox and MTV. In addition, she has designed makeup for Donna Karan, Calvin Klein and Bill Blass and authored the book, The Eyebrow.
Robyn's mastery of both the brow and makeup application is unparalleled and has given her access to some of the most recognizable faces in Hollywood and New York: Nicole Kidman, Kate Bosworth, Marisa Tomei, Christina Applegate, Jamie Lee Curtis, Gina Gershon, Vanessa Redgrave, Bryce Dallas Howard, Cat Deeley, Lesley Stahl, Laura San Giacomo and Elizabeth Perkins.
Robyn does not create a "signature brow." Instead, she provides sophisticated analysis of each client's face, creating a tailor-made brow – your signature brow. Her clients are pleased to discover that the better the brow, the less makeup is needed. Robyn has the foresight to recognize that trends are irrelevant and a great face can only be realized by following the simplest principles of glamour: "It's not glitter eye shadow, black eyeliner, and a foundation applied with a trowel that make a woman beautiful. It is-and make this your beauty mantra-a gorgeous mouth, clear, beautiful skin, great hair, and stunning eyebrows."